VRILONE
Introducing the VRILONE – the wing that takes flying to a new level! With our passion for flying and our drive for innovation, we've created the ultimate Single Skin Miniwing that provides stability, agility and an unforgettable flying experience.
Experience the freedom and joy of flying like never before with the VRILONE. Featuring wider cells, fewer lines, and a Landingbooster, this wing offers incredible control and stability, allowing you to confidently explore the skies.
Its compact size and light weight make it easy to take with you on any adventure, from mountain climbs to beach trips.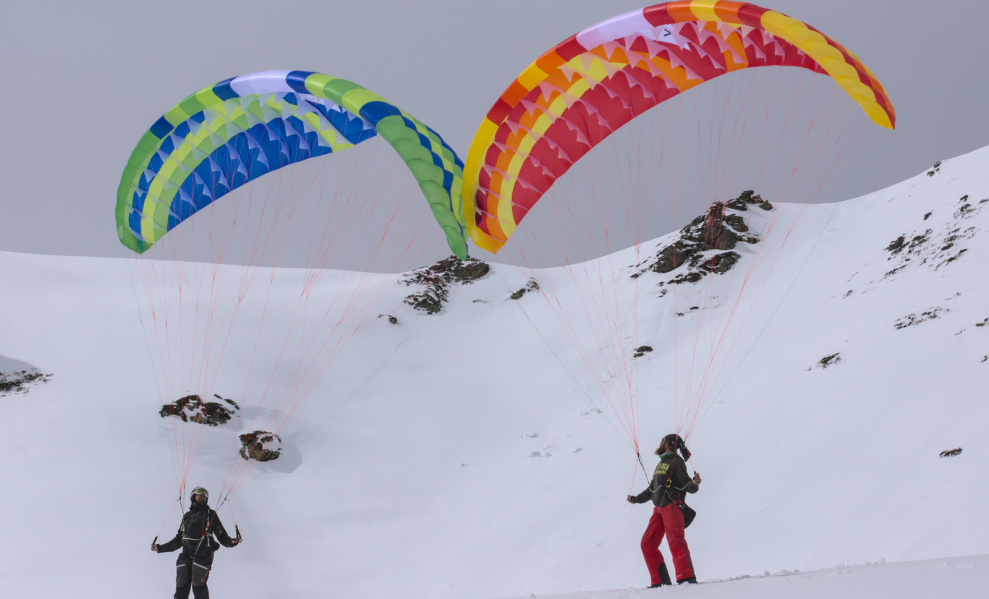 lightweight and compact size
VRILONE – 12m² – 1,1 kg weight
VRILONE – 14m² – 1,2 kg weight
VRILONE – 16m² – 1,3 kg weight 
With a weight of only 1.1 to 1.3 kg, the VRILONE is one of the lightest paragliders in the world. Its extreme lightness and ultra-compact size make it the perfect companion for all your adventures, whether you're mountaineering, ski touring, or traveling with hand luggage. The VRILONE gives you the freedom to take your paraglider with you anywhere, without being limited by weight or size.
So why wait? Get your hands on the VRILONE today and start exploring the world from a whole new perspective!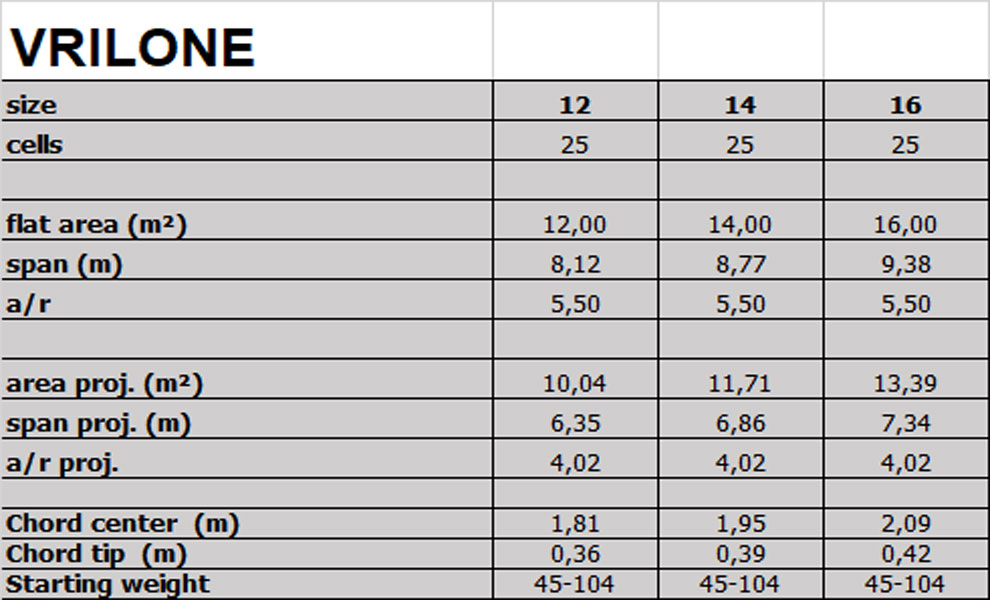 technical data and starting weight
For pilots looking for more speed and dynamic flying, we recommend flying smaller sizes with higher wingload. For heavier pilots or those who prefer a more relaxed experience, we suggest choosing one of the larger sizes. Our range of sizes ensures that there's a perfect fit for every pilot, so you can find the ideal VRILONE to match your flying style and preferences.
All VRILONE wings have a weight range of 45-105 kg. This ensures that our wings are suitable for a wide range of pilots, from lightweight beginners to more experienced pilots looking for high-performance wings.
Our wings are designed with safety and ease of use in mind, so you can fly with confidence and enjoy the ultimate experience of freedom and happiness.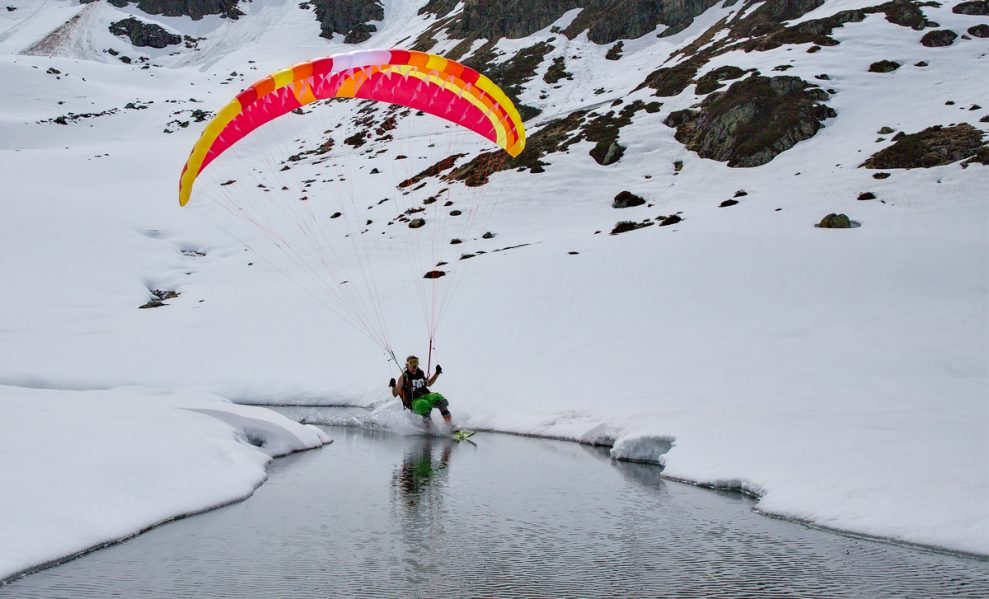 LANDING BOOSTER
The Landing Booster is a revolutionary accessory that improve the landing behavior of your paraglider. By attaching a connection line to the main brake line and activating it around 30% of the brake path, the E, D, and C levels of the canopy are also engaged, resulting in increased surface area and improved landing behavior.
Not only does the Landing Booster extend the braking distance, but it also delays the onset of airflow separation, leading to smoother and safer landings. This technique can be practiced during flight by engaging the canopy from full speed until the C-line is pulled, observing the vario to monitor ascent.
With the Landing Booster and this technique, landing in challenging situations is easier, even in leewind conditions. By raising your hands and then deep-braking until all BOOSTER levels are engaged, you can guarantee a clean and safe landing.
wide-cell tech.
By increasing the width of our cells by 30%, we were able to reduce the attachment points, line lengths, and line resistance by the same amount. This resulted in improved gliding performance and a better handling of the canopy in headwind conditions. In fact, our widened cell design allows the canopy to fly much better against the wind, providing greater stability and control in challenging conditions.
Experience the benefits of a canopy with improved performance and handling in all wind conditions with our widened cell design.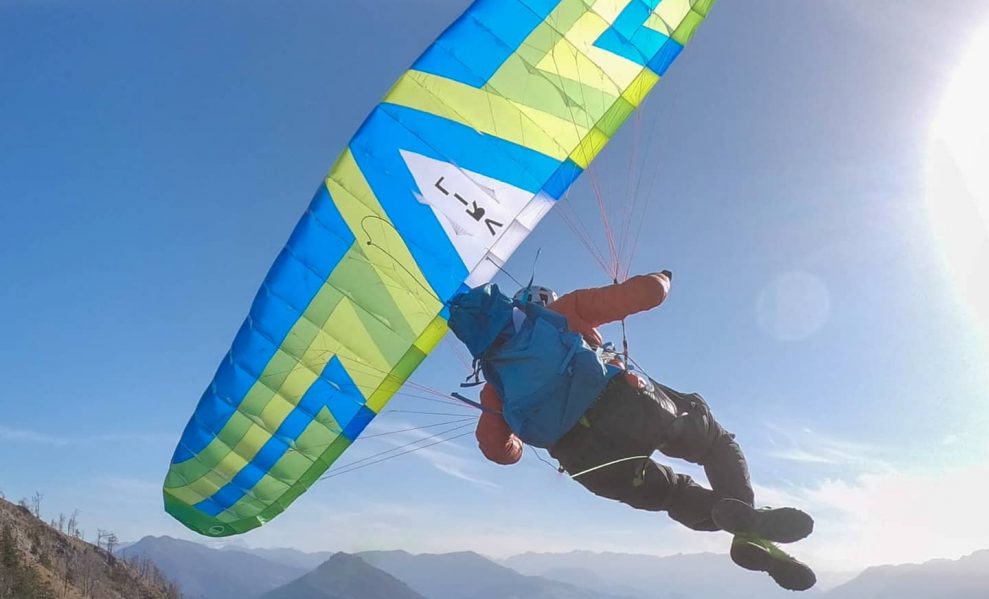 performance and head wind flying
In addition to the optimized line lengths resulting from our wider cell design and narrower profile, we believe that a higher aspect ratio and wing loading can significantly improve the gliding performance of small single-skin canopies. Anyone who tests or owns a VRILONE should be welcome to compare its performance with larger double-skin or single-skin canopies.
The slightly higher trim speed of the canopy, along with the above-mentioned design features, allows the canopy to continue flying steadfastly even in high wind speeds, with minimal reduction in glide ratio. This positive effect is also noticeable during soaring.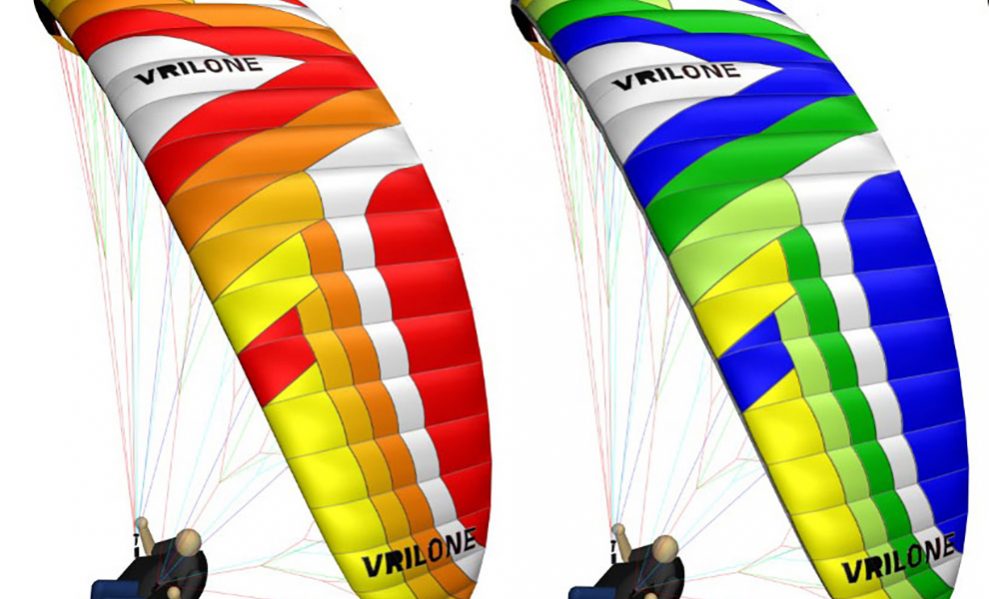 colours
All sizes of the VRILONE are available and in stock in both red and blue color combinations. With our commitment to quality and customer satisfaction, we ensure that every VRILONE is crafted with the utmost care and attention to detail, so you can be confident in the performance and durability of your new canopy.
VRILONE 12 – RedV edition – BlueV edition
VRILONE 14 – RedV edition – BlueV edition
VRILONE 16 – RedV edition – BlueV edition
custom colours
At VRIL, we understand that every pilot has their own unique style and preferences, which is why we offer the option of custom colors for a small additional fee. If you have a specific color scheme in mind, simply send us a design file, and we'll work with you to create a customized VRILONE that is truly one-of-a-kind.
Please note that while we are happy to accommodate custom colors, we are unable to modify the V design of the VRILONE. However, we believe that our V design is both stylish and functional, and we're confident that you'll love the look of your customized VRILONE just as much as you love its performance in the air. So why not make a statement with a unique and customized VRILONE? Contact us today to learn more about our custom color options.